Table of Contents [hide]
The new Guitar Toolkit is our answer to the needs of the beginner and experienced guitarists. Whether you want to learn more chords with our interactive chord trainer, try new alternate tunings and tuning frequencies or want to immediately see what chords are playing at any time. We have the features for you! Of course, the Guitar Toolkit subscription also includes access to Chordify's Premium features - these are a great help for musicians of any level.
Tuner
Basic Tuner
This is our free polyphonic tuner. Polyphonic means that you can strum all the strings at once and immediately see which ones need tuning. That will save you time when only a couple strings are out of tune. Of course you can also tune the strings individually.
To know which way to tune, dots will appear on the strings when you play them. A dot above the center means that the note is too high and needs to be tuned down, and a dot below the center of the screen means that you need to tune the string up.
For the basic tuner, only standard tuning and A4= 440Hz are available. For alternate tunings and all the tuning frequency options, check out our advanced tuning options below.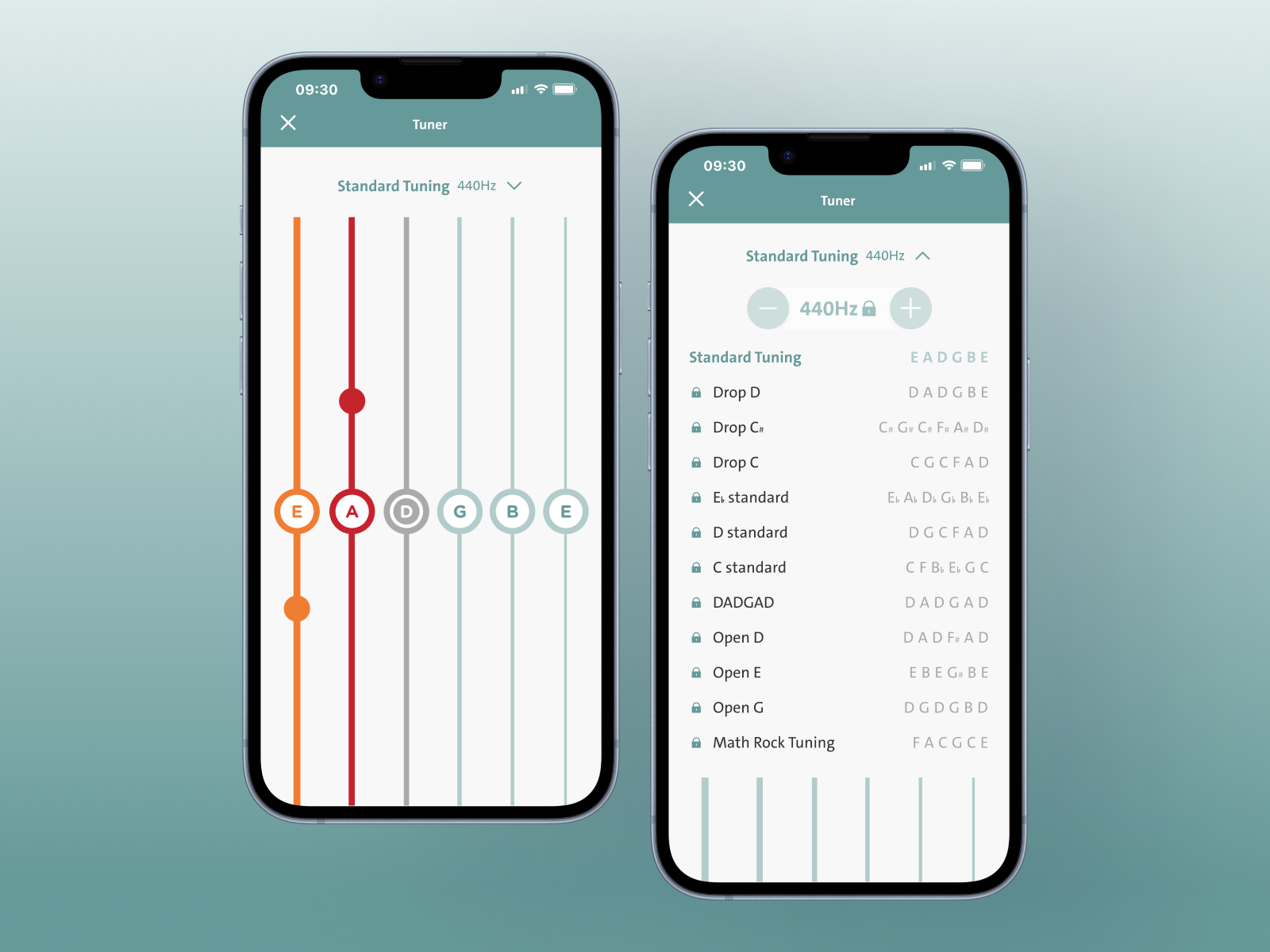 Advanced Tuning Options
With the advanced tuner you open up a lot of useful tuning options. You can adjust the tuning frequency (A4=440) to match any song and you can effortlessly switch to an alternate tuning.

Tuning frequency: The default tuning frequency is A4=440 Hz. This means that in most cases, everybody tunes their instrument to this frequency so that they will sound in tune together.

But for many different reasons there are a lot of songs that differ from the standard tuning frequency. These songs have a different default frequency (A4=430 for example), and all instruments are tuned to that pitch. To make sure you are in tune with the song you are playing along with, you would need a tuner with an adjustable tuning frequency. Like this one!

For example, I Was Made For Loving You by Kiss is tuned to A4=430 Hz, and Highway To Hell by AC/DC is tuned to A4=453. Playing along to these songs will not sound good in standard tuning.

Now you can tune your instrument to the correct frequency and play along using our advanced tuner options!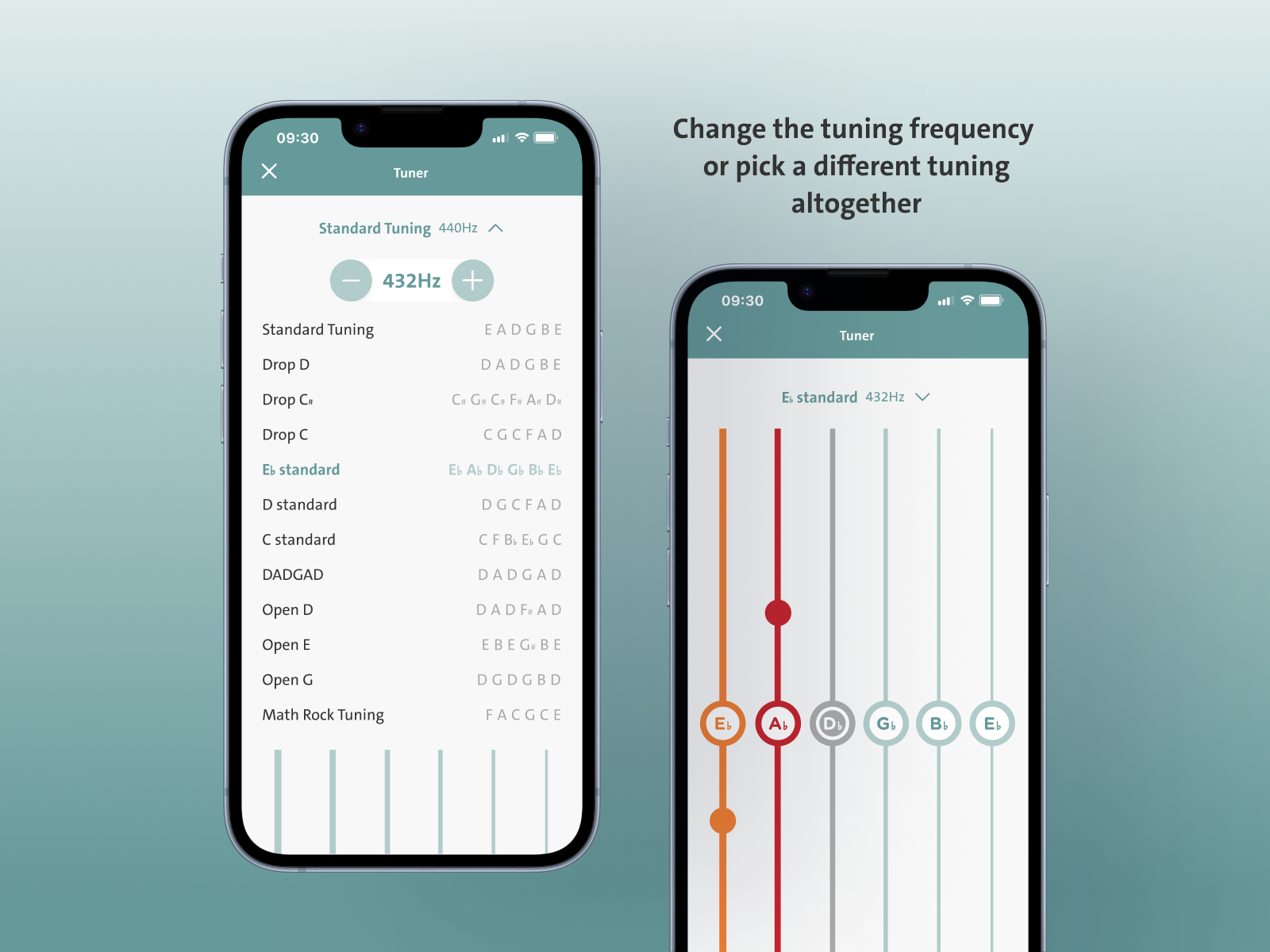 Alternate tunings:
There are a lot of famous songs that are not in standard tuning. To be able to play along to them you will need to tune your guitar to an alternate tuning.
Alternate tunings are a great way to get the creative juices flowing and get new inspiration for chords and licks. That's why a lot of guitarists experiment with them.
Now you are able to do the same. Just select the alternate tuning you want to use and tune your guitar accordingly.

Some well known songs in alternate tunings are:
Rage Against The Machine - Killing In The Name Of (Drop D)
Led Zeppelin - Kashmir (DADGAD)
Jimi Hendrix - Little Wing (Eb standard)
Queens Of The Stone Age - No One Knows (C Standard)
Rolling Stones - Start Me Up (Open G)

This is the list of tunings that we now provide with the advanced tuner:
- Drop D
- Drop C#
- Drop C
- Eb standard
- D standard
- C standard
- DADGAD (Celtic tuning)
- Open D
- Open E
- Open G
- Math Rock Tuning
Metronome
A metronome is a great practice tool to use. It provides you with a rhythm that has an adjustable tempo, so you can practice at your own pace. You can choose different sounds that provide you with this rhythm - a traditional wooden metronome, more modern sounding beeps or even a full drum beat to make your practice more musical and fun.
This way you can gradually increase the tempo of the part you're playing until you nail it at full speed.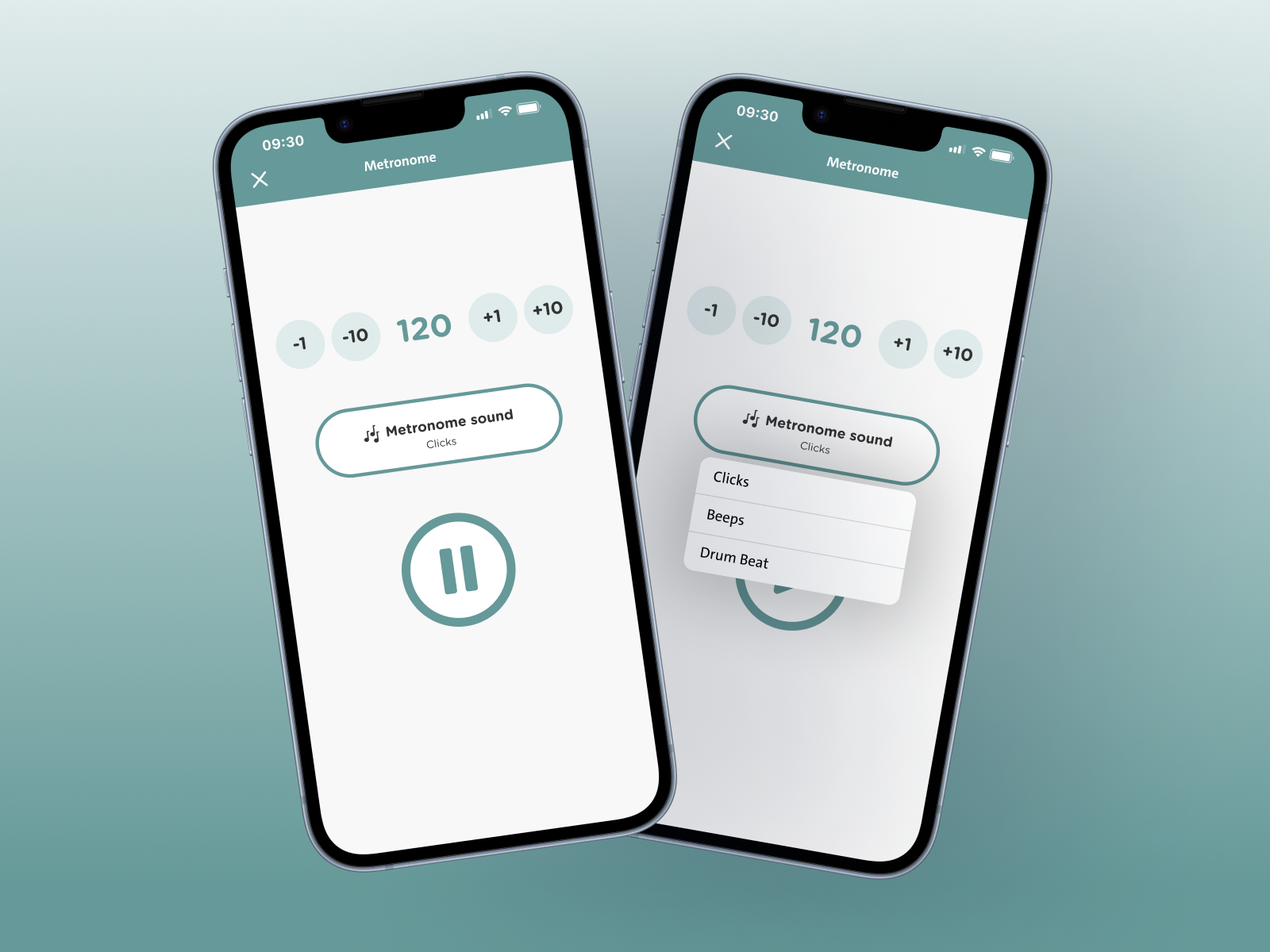 Change the sound of the metronome
Practice Your Chords
This is our great new tool to learn and practice chords on the guitar. The chord trainer shows you the diagrams of all the main chord shapes and can listen to hear if you played it correctly. Like a real guitar teacher!

This interactive aspect makes it way easier to correctly learn all your new chords as a beginner. Just look through the database of chords, see how to play them, play it to the app to check with our interactive feedback and repeat.
You specify which chord you want to learn or practice by giving the root note of the chord and specifying if it's major, minor or if it has any other characteristics like an added 7 or a sus4.

The trainer then shows you the diagram of that chord and when you play the chord to the app it will tell you which strings (if any) are played incorrectly. The trainer will even show you where your finger is and where it should be when playing a note on a wrong fret, and will also let you know if a certain string is not plucked well enough. All the regular major and minor chords are free, but the more advanced options like 7s, sus4, power chords etc. are available with purchasing the 'Guitar Toolkit' package.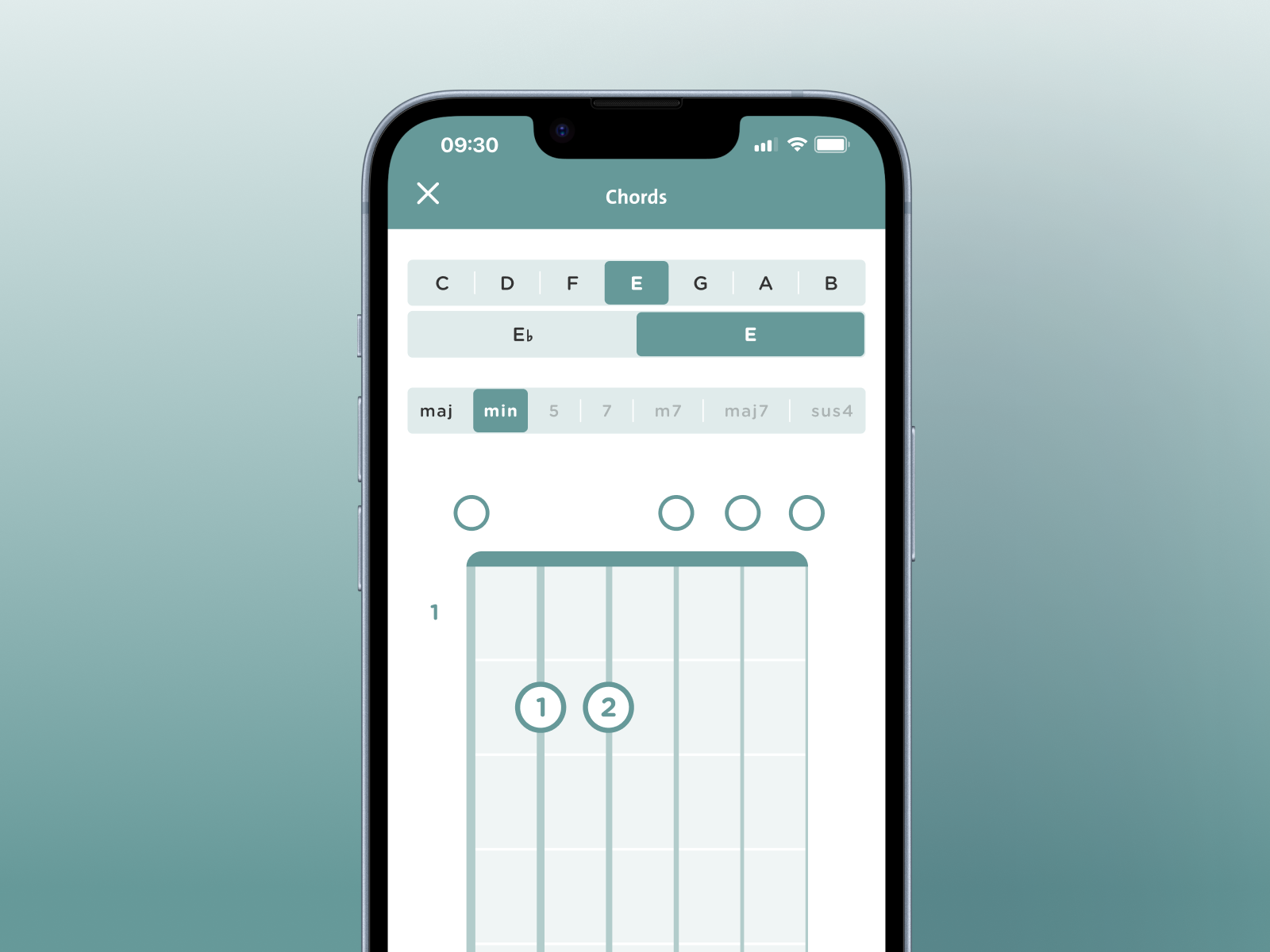 Free interactive chord trainer showing major/minor chords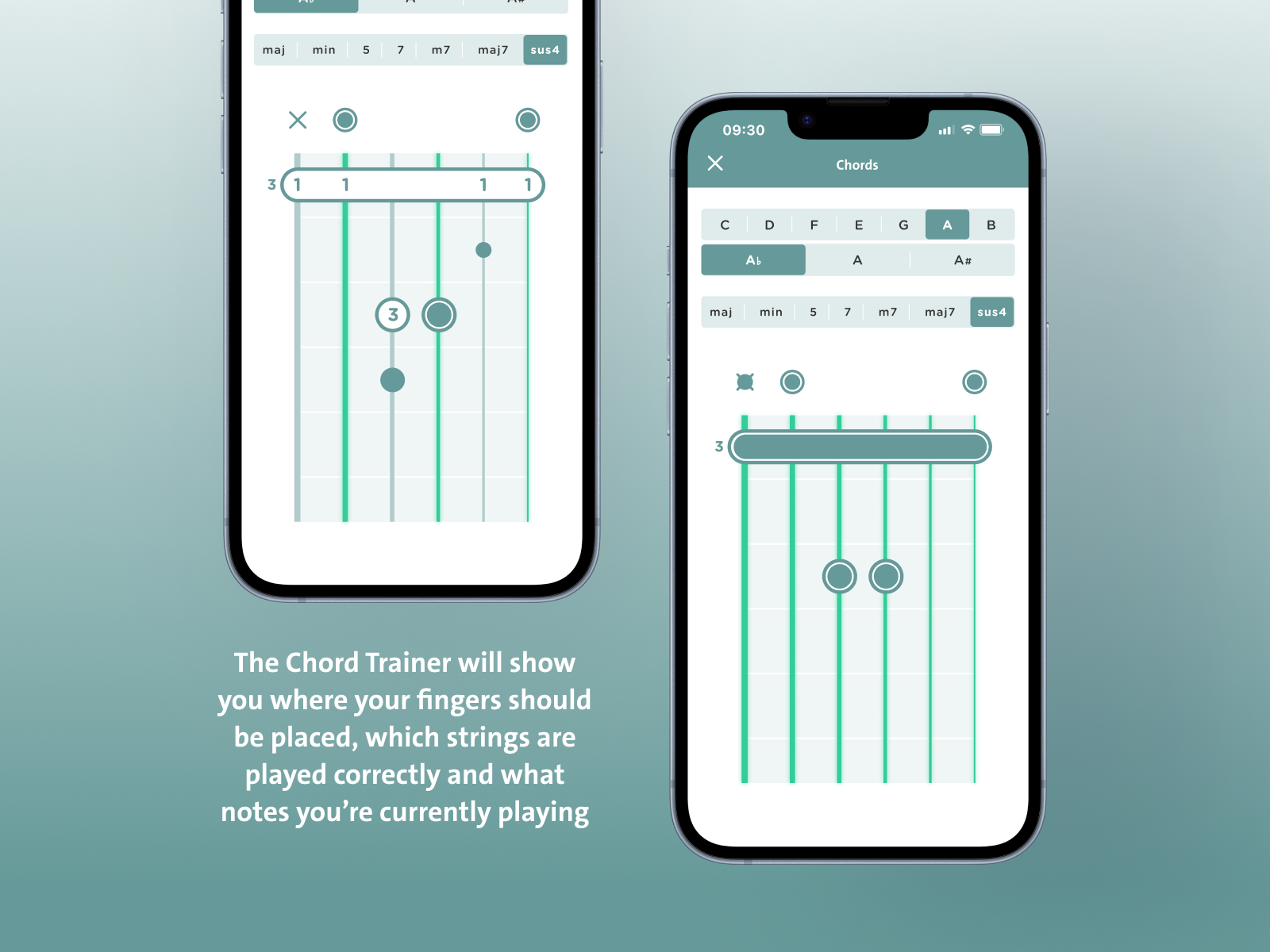 Interactive chord trainer with toolkit subscription, showing advanced chords
Live Chord Detection
Live chord detection is a powerful tool you can use when practicing, jamming or learning songs. Our app will listen to any song or performed music and show you which chords are being played live!

So if you are listening to the radio and you want to quickly figure out the chord structure, you can just pull out your phone and start playing along or learn any song on the go. Also if you are playing with other musicians and somebody is playing chords on an instrument or in a tuning that you are less familiar with, you can now immediately play along or play a solo on top of it. Follow the chords with our chord detection.

Always knowing what chord is playing will make your practice sessions that much more easy and fun and learning any songs the quickest it could possibly be!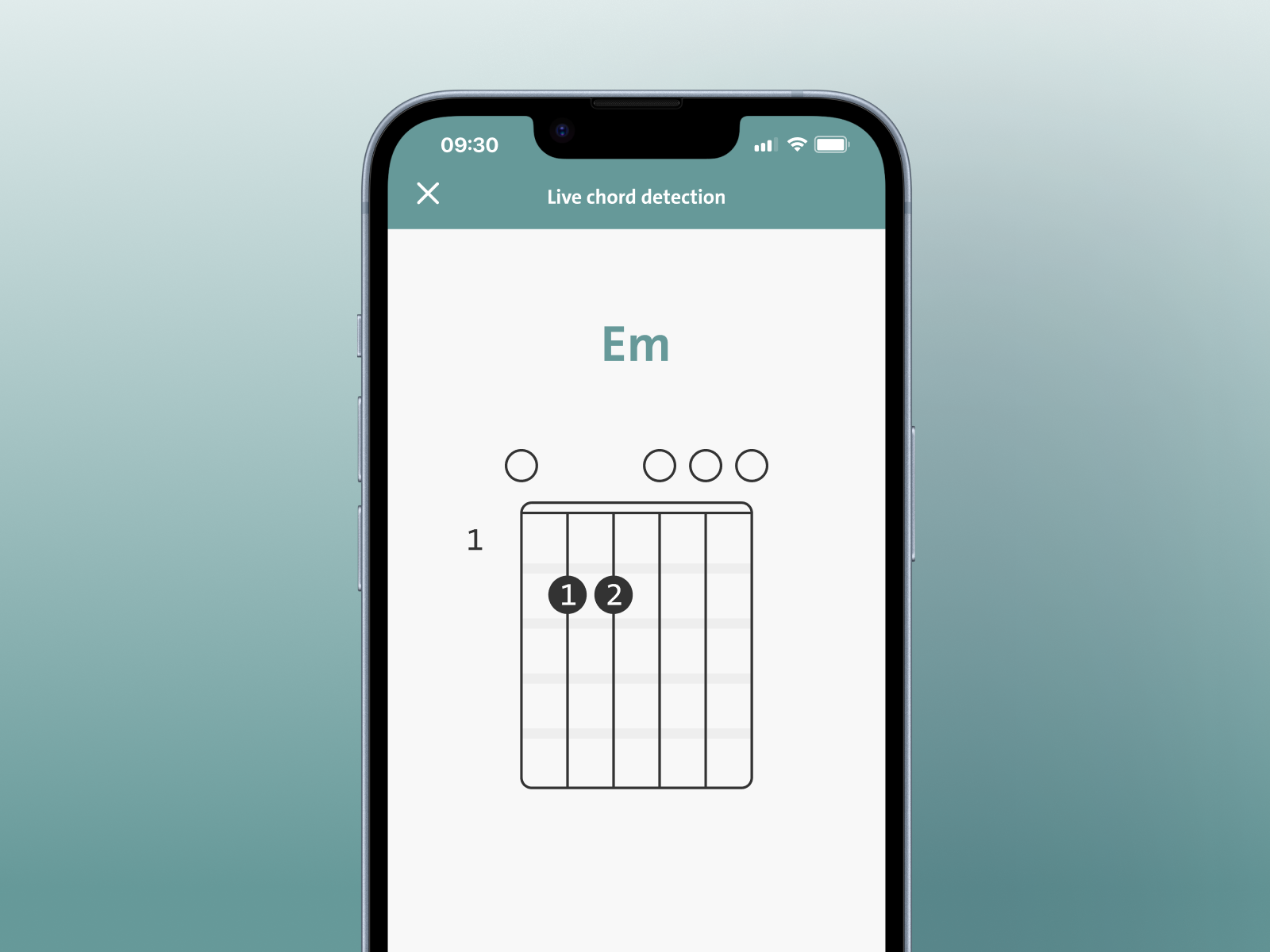 Live chord detection shows you what chord is playing